THE CHALLENGE
Prevea Health, the top health care provider in Northeast Wisconsin, hired Aaron Rodgers, Green Bay Packers quarterback and NFL MVP, to a multi-year contract as spokesperson. The challenge was, now that we have him, what do we do with him? Why is the number one quarterback in the entire NFL speaking for Prevea and how do we keep him from simply being a shill?
THE SOLUTION
As we researched Aaron we uncovered several shared values between him and Prevea. The traits he used for success were the same traits Prevea embraced and traits they encouraged their patients embrace. Prevea is dedicated to keeping you out of the hospital. Wellness care isn't just good for the patient, it's also good business for Prevea. But it requires work, motivation, perseverance, a support network and being proactive. All values Aaron embodies.
2012 • CONCEPT DEVELOPMENT, CREATIVE DIRECTION, ART DIRECTION, PHOTO AND VIDEO SHOOT DIRECTION, PROJECT AND VENDOR MGT.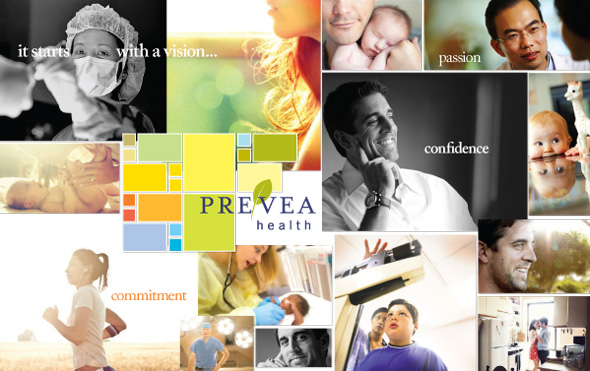 CONCEPT AND BROADCAST
We created a campaign showing what living these shared values looks like using Aaron as VO and the pay-off at the end of the spots.
We started with a mood board. I wanted it bright and aspirational. When people saw this campaign, they should say, "Yes, I want to live like that."
I wanted the VO to be aggressive and almost a locker-room speach, yet feel authentic to Prevea's voice. Inspirational. Take away the visuals and Aaron might be speaking about himself and football. With the visuals, he's speaking to all of us.
Production was intensive. We had one 8 hour day with Aaron. I had to plan how to capture 3 television spots, 5 interviews, 2 radio spots, a year's worth of photography, sweepstakes imagery, etc. I then directed 5 additional days of shooting for b-roll, along with multiple days and travel for post-production. I can proudly say this was the biggest production in my professional career and our agency's 16 year history.
:60 GAME CHANGER
:30 CONTROL
:30 FOCUS
BEHIND THE SCENES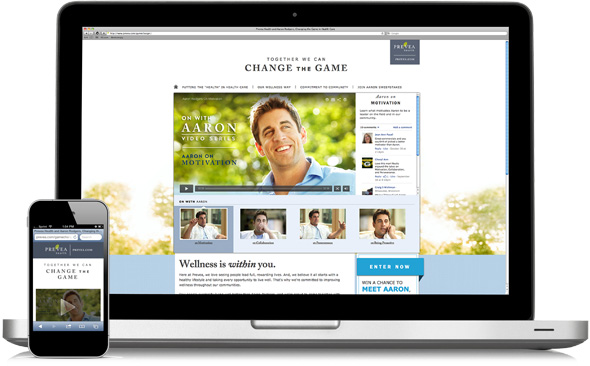 WEB AND ENVIRONMENTAL COMPONENTS
We created the micro-site prevea.com/gamechanger that would feature five three-minute interviews with Aaron. Each featured a value that Aaron and Prevea shared and encouraged others to use for their own success.
To help this commitment to wellness feel authentic, we created a participation based sweepstakes. We put life-size "Aarons" throughout Prevea's market. Each encouraged you to make a healthy choice and then submit a photo of it. For example, in partnering grocery stores, shoppers were encouraged to submit a photo of them with a piece of fresh produce. At the end of the sweepstakes, winners would be randomly selected for a range of prizes from autographed gear and health club memberships to the grand prize of meeting Aaron at our next year's shoot. We leveraged social platforms to submit the images and create buzz.
ON WITH AARON: MOTIVATION